ChinaGrate molded fiberglass gratings provide a cost effective solution and long lasting performance for many industrial and recreational applications over a wide span of aggressive and corrosive environments.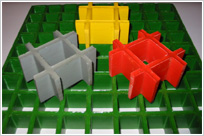 Our molded gratings are constructed in one-piece from continuous fiberglass rovings and a wide range of premium polyester or vinyl ester resins. Unique three-step weaving process ensures all glass reinforcements are in the center of bars and protected by outer rich resin layers.

ChinaGrate set the standard for manufacturing excellence in the industry. We maintain one of the largest mold pool in the world, thus enable us to offer one of the largest selections in the world, in panel sizes, colors, resins and surface systems. Our 24 x 7 around the clock operation enable up to achieve manufacture capacity of 10 million pounds per annum.

Our quality control system is second to none. Through years of experience, we formulated a unique quality control system called "Verifiable Quality". All our grating panels are tested and verified by our in-house staff against a "quick deflection ratio" within 48 hours after curing. This quality control process enables us and our customer to have a peace of mind to know that every panel we make and sell is as good.

All ChinaGrate brand products meet ASTM E-84 fire test standards. They are independently test by outside testing agencies and our customers for load and deflection data, using testing methods set forth by Fiberglass Grating Manufacturers Council of ACMA.