| | |
| --- | --- |
| | -> -> Pultruded Fiberglass Gratings -> Pandadeck® |
What is PANDADECK®?



Pandandeck® is designed and produced using both I-beam and T-bar profiles to provide lasting performance. While most manufacturers offer either two-part or three-part interlock system, we offer both systems and more selections. Pandandeck® delivers ultimate performance of strength, corrosion resistance, fire retardant,and structural integrity.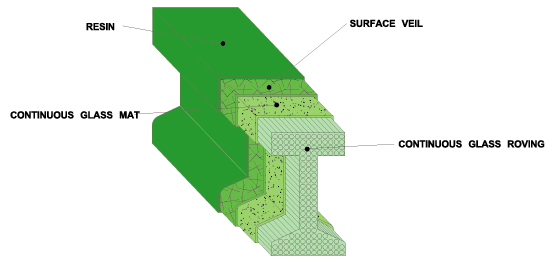 Cross Rod Systems



We are the only company in the industry to offer two cross rod systems.

Typical Properties of PANDADECK® Pultruded Gratings
Property
Test Method
Units
l Series 70%-75% glass
T Series 65%-70% glass
Tensile Strength
ASTM D-638
PSl
125,000
100,000
Tensile Moldulus
ASTM D-638
PSl
6.0*10£Þ6
5.6*10£Þ6
Flexural Strength
ASTM D-790
PSl
125,000
100,000
Flexural Moldulus
ASTM D-790
PSl
6.0*10£Þ6
5.6*10£Þ6
Compressive
PSl
65,000
60,000
Strength
ASTM D-695
FT-lb/lN
40
40
Izod Impact Notch
ASTM D-256
50(Min)
50(Min)
Barcol Hardness
ASTM D-792
2
2
Specific Gravity
ASTM D-570
Max
0.3
0.3
Water Absorption
ASTM E-84
%
Less than 25
Less than 26
Fire Retardant
ASTM D-635
Self
Self